With our multiple currencies feature, networks with enterprise accounts set individual offers' cost and revenue to currencies other than that network's default currency. For instance, a network normally working in US Dollars may partner with one advertiser working in Euros and another advertiser working in Indian Rupees. This feature gives you control over tracking and invoices internationally.
Enabling this Feature
Click on the Customize Application option in the Company menu. On the next page, click on the Application option in the Settings box. Scroll down the Allow Multiple Currencies option, and set it to "Enabled". Finally, click on the Save button at the bottom of the page.
Currencies We Support
TUNE supports currencies the European Central Bank provides exchange rates. Those exchange rates are used to estimate your network's cost and revenue stats in your default currency. See our list of supported currencies below.
Because currency rates are continually in flux, currency conversions in reports are for estimation purposes only. Please don't use these estimates for billing purposes. Your network will generate a separate invoice for each currency used in an offer during the billing period.
Setting an Offer's Currency
When creating an offer, set the Custom Currency field in the Currency section to "Enabled". Once you do, a new field labeled Offer Currency appears. Select the currency for this offer.
Revenue and payout are always in the same currency. Once you select the currency for this offer, the currency symbols for revenue and payout will change as shown below. Publishers and advertisers will also see this currency when dealing with that offer.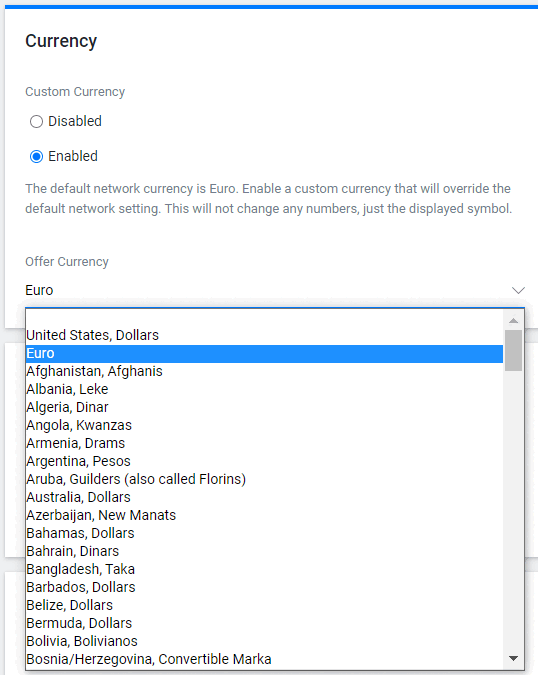 Warning on Changing an Existing Offer's Currency
If you need to, you can change the currency your offer uses by clicking on the Edit button in the Payouts section (if not using offer goals) or by clicking on the Edit link for the default goal (if using offer goals). This isn't a best practice, as it can cause stats reporting difficulties, but we leave this option available for edge cases where it's necessary.
You must change the numeric parts of payout and revenue values. Those values aren't changed on their own. If your offer is set for a $1 USD RPA and you change the currency type to Euros, the offer's RPA becomes 1 €. Change your payout and revenue values when you change your currency type.
Past Activity: As with any change to an offer's payout or revenue, changing the offer's currency only affects future activity. Changing the currency won't affect previous clicks or conversion stats; those will continue to be in the previous currency.
Reporting with Multiple Currencies
The stats report and conversion report default to reporting in the network's default currency, and have the option to break reports out with multiple columns for different currencies.
By default, you see the general values for payout, revenue, sale amount, CPC, RPA, and so on in the network's default currency. A simple conversion report with just these general values might look like so.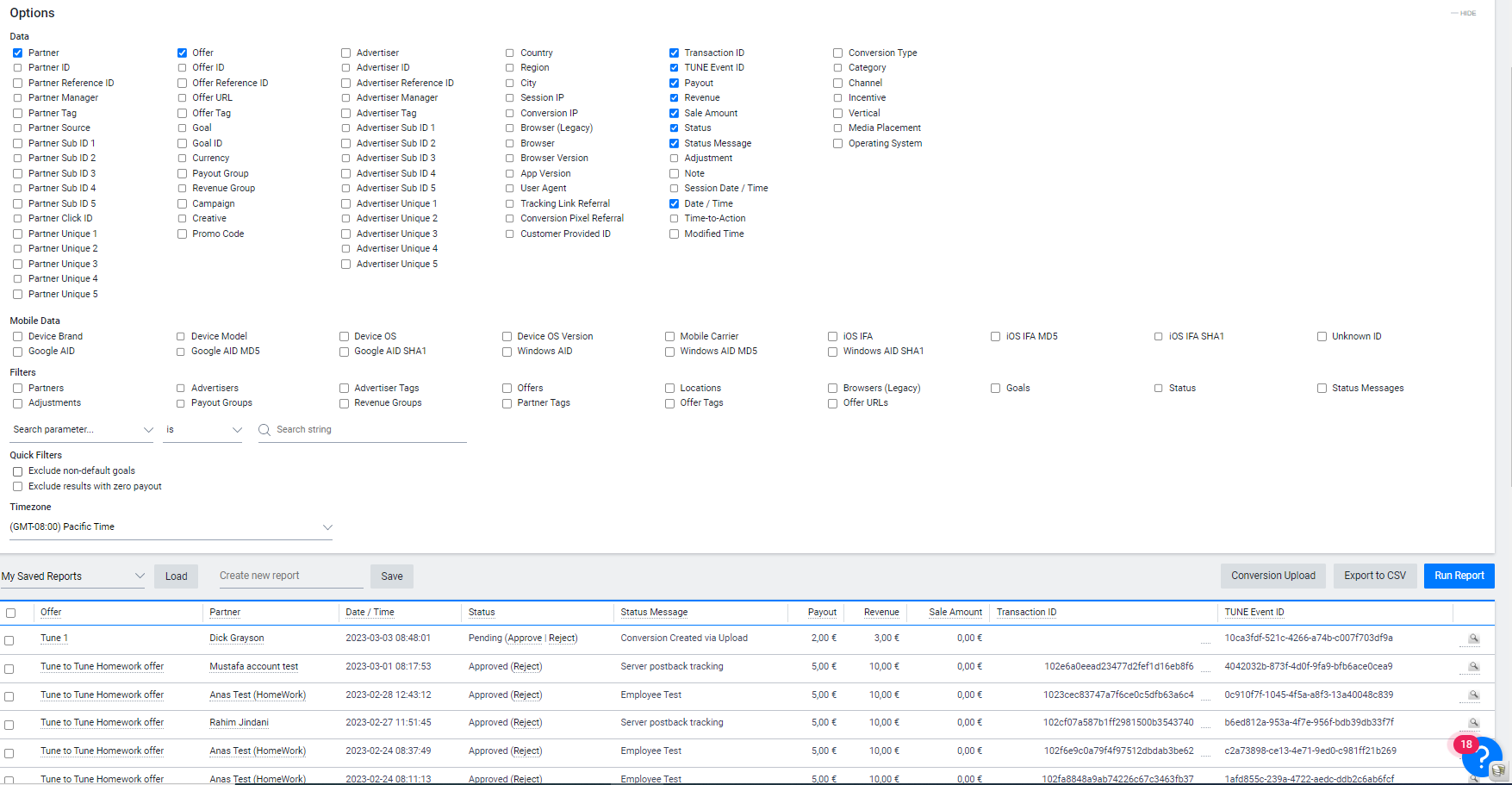 To see the actual values in default currencies, select the Currency option in the Data section under Options. Running this report with that option gives you many more columns.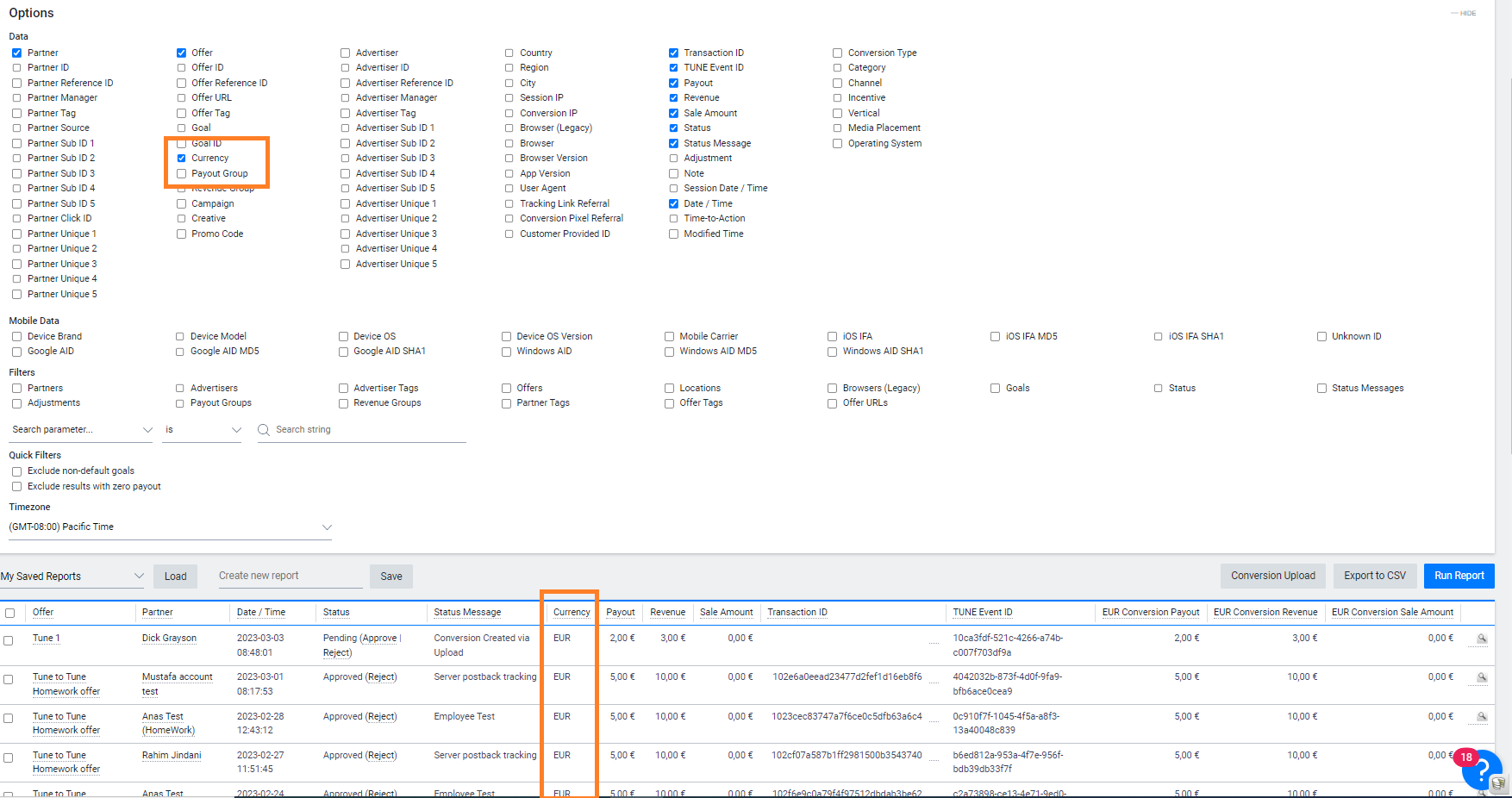 When the currency is listed, the payouts, revenues, sale amounts, and so on are listed as separate columns, preceded by the currency code, and grouped together.
Important: The general values listed in the network's default currency are for estimation purposes only. Only the values specific to the offers' currencies should be used for billing purposes. More on this topic in the following sections.
Estimating Currency Conversion
The stats report and conversion report estimates the payout and revenue by default solely to provide you the ability to see how offers are performing relative to each other and performance in total without having to do that math and lookup yourself. Because currency values fluctuate, this is an inaccurate picture for relative reporting purposes only.
In the above example, seeing the revenue and payouts in a single currency gives us a quick sense of performance without having to open a browser window and look up conversion rates for every transaction, not in the default currency.
Where Do These Exchange Rates Come From?
The exchange rates TUNE uses for estimation purposes are drawn hourly from the European Central Bank (openexchangerates.org).
TUNE is not a financial institution and thus is not responsible for the integrity of estimated currency values.
Billing Invoices
A separate invoice is created for each currency if a publisher generates payouts in multiple currencies during a billing period. Likewise is true for advertisers owing amounts in multiple currencies. The following example shows an extreme case of a single publisher having generated payouts for offers from four different currencies in the same pay period.

Because of the myriad of monetary arrangements and potential fees between different parties, TUNE cannot combine invoices for multiple currencies into a single invoice. Exchange rates must be handled through financial institutions' networks use to pay your publishers and advertisers use to pay networks, and not through the estimations TUNE generates.
Generate Invoices Using the API
If you use the API to generate invoices instead of downloading them from the network application, use PartnerBilling.findInvoiceStats and AdvetiserBilling.findInvoiceStats. Do not use report.getStats, as the payout and revenue listed in that API calls are the estimated amounts referenced above, and should never be used directly for invoice and billing purposes.
List of Supported Currencies
The currencies we support and their currency codes are as follows.
| | | | | | |
| --- | --- | --- | --- | --- | --- |
| code | name | code | name | code | Name |
| AED | United Arab Emirates, Dirham | HNL | Honduras, Lempiras | PYG | Paraguay, Guarani |
| AFN | Afghanistan, Afghanis | HRK | Croatia, Kuna | QAR | Qatar, Rials |
| ALL | Albania, Leke | HTG | Haiti, gourde | RON | ≈Romani, New Lei |
| AMD | Armenia, Drams | HUF | Hungary, Forint | RSD | Serbia, Dinars |
| ANG | Netherlands Antilles, Guilders (also called Florins) | IDR | Indonesia, Rupiahs | RUB | Russia, Rubles |
| AOA | Angola, Kwanzas | ILS | Israel, New Shekels | RWF | Rwanda, Francs |
| ARS | Argentina, Pesos | IMP | Isle of Man, Pounds | SAR | Saudi Arabia, Riyals |
| AUD | Australia, Dollars | INR | India, Rupees | SBD | Solomon Islands, Dollars |
| AWG | Aruba, Guilders (also called Florins) | IQD | Iraq, Dinar | SCR | Seychelles, Rupees |
| AZN | Azerbaijan, New Manats | IRR | Iran, Rials | SDG | Sudanese, Pound |
| BAM | Bosnia/Herzegovina, Convertible Marka | ISK | Iceland, Kronur | SEK | Sweden, Kronor |
| BBD | Barbados, Dollars | JEP | Jersey, Pounds | SGD | Singapore, Dollars |
| BDT | Bangladesh, Taka | JMD | Jamaica, Dollars | SHP | Saint Helena, Pounds |
| BGN | Bulgaria, Leva | JOD | Jordan, Dinars | SLL | Sierra Leone, Leone |
| BHD | Bahrain, Dinars | JPY | Japan, Yen | SOS | Somalia, Shillings |
| BIF | Burundi, Francs | KES | Kenya, Shilling | SRD | Suriname, Dollars |
| BMD | Bermuda, Dollars | KGS | Kyrgyzstan, Soms | STD | São Tomé and Príncipe, Dobra |
| BND | Brunei Darussalam, Dollars | KHR | Cambodia, Riel | SVC | El Salvador, Colones |
| BOB | Bolivia, Bolivianos | KMF | Comoros, Francs | SYP | Syria, Pounds |
| BRL | Brazil, Reais | KRW | South Korea, Won | SZL | Swaziland, Lilangeni |
| BSD | Bahamas, Dollars | KWD | Kuwait, Dinars | THB | Thailand, Baht |
| BTN | Bhutan, Ngultrum | KYD | Cayman Islands, Dollars | TJS | Tajikistan, Somoni |
| BWP | Botswana, Pulas | KZT | Kazakhstan, Tenge | TMT | Turkmenistan, Manat |
| BYN | Belarus, Ruble | LAK | Laos, Kips | TND | Tunisia, Dinar |
| BZD | Belize, Dollars | LBP | Lebanon, Pounds | TOP | Tonga, Paanga |
| CAD | Canada, Dollars | LKR | Sri Lanka, Rupees | TRY | Turkey, Lira |
| CDF | Congo/Kinshasa, Francs | LRD | Liberia, Dollars | TTD | Trinidad/Tobago, Dollars |
| CHF | Switzerland/Liechtenstein, Francs | LSL | Lesotho, Loti | TWD | Taiwan, New Dollars |
| CLP | Chile, Pesos | LYD | Libya, Dinars | TZS | Tanzania, Shilingi |
| CNY | China, Yuan Renminbi | MAD | Morocco, Dirhams | UAH | Ukraine, Hryvnia |
| COP | Colombian, Peso | MDL | Moldova, Leu | UGX | Uganda, shilling |
| CRC | Costa Rica, Colones | MGA | Madagascar, Ariary | USD | United States, Dollars |
| CUC | Cuban, Convertible Peso | MKD | Macedonia, Denars | UYU | Uruguay, Pesos |
| CUP | Cuba, Pesos | MMK | Myanmar, kyat | UZS | Uzbekistan, Sums |
| CVE | Cape Verde, escudo | MNT | Mongolia, Tugriks | VND | Vietnam, Dong |
| CZK | Czech Republic, Koruny | MOP | Macau, Patacas | VUV | Vanuatu, Vatu |
| DJF | Djibouti, Francs | MUR | Mauritius, Rupees | WST | Samoa, tālā |
| DKK | Denmark, Kroner | MVR | Maldives, Rufiyaas | XAF | Central Africa, Francs |
| DOP | Dominican Republic, Pesos | MWK | Malawi, Kwacha | XCD | East Caribbean, Dollars |
| DZD | Algeria, Dinar | MXN | Mexico, Pesos | XDR | Special Drawing Rights |
| EGP | Egypt, Pounds | MYR | Malaysia, Ringgits | XOF | West African CFA, Franc |
| ERN | Eritrea, Nakfas | MZN | Meticais, Meticais | XPF | French colonies of the Pacific, Francs |
| ETB | Ethiopia, Birrs | NAD | Namibia, Dollars | YER | Yemen, Rials |
| EUR | Euro | NGN | Nigeria, Nairas | ZAR | South Africa, Rand |
| FJD | Fiji, Dollars | NIO | Nicaragua, Cordobas | ZMW | Zambia, Kwachas |
| FKP | Falkland Islands, Pounds | NOK | Norway, Krone | | |
| GBP | United Kingdom, Pounds | NPR | Nepal, Rupees | | |
| GEL | Georgia, Lari | NZD | New Zealand, Dollars | | |
| GGP | Guernsey, Pounds | OMR | Oman, Rials | | |
| GHS | Ghana, Cedis | PAB | Panama, Balboa | | |
| GIP | Gibraltar, Pounds | PEN | Peru, Nuevos Soles | | |
| GMD | Gambia, Dalasis | PGK | Papua New Guinea, Kina | | |
| GNF | Guinea, Francs | PHP | Philippines, Pesos | | |
| GTQ | Guatemala, Quetzales | PKR | Pakistan, Rupees | | |
| GYD | Guyana, Dollars | PLN | Poland, Zlotych | | |
| HKD | Hong Kong, Dollars | PTS | Points | | |