Timezones
Your network-wide stats are set to the default time zone of your network tracking settings. If you're trying to match up your stats with another network or want to see how the same data set is viewed in another timezone, use the Timezone dropdown menu.

Note that when working with stats across different time zones, your daily totals vary depending on what timezone you are in. For example, let's say your default time is Greenwich Mean Time (GMT) and you want to see what your stats look like in western Europe (GMT+1). If you display stats by the hour using the "Hour" interval option and you have 3,755 clicks for hour 15 (3:00 pm), changing the timezone to GMT+1 makes those same 3,755 clicks show up in hour 14 (2:00 pm) of new time zone. In a more drastic example, switching your report to PST (GMT-8) means the same 3,755 clicks will appear in hour 5 (5:00 am).
Using the timezone tool can ultimately lead to different stats for each time day/month/year interval, as the stats that come in the default timezone could end up showing on the previous/next day in another timezone.
Timeframes
With timeframes, you can select what date range you want to view stats for. One option is to use a preset timeframe from the dropdown menu in the Timeframe section: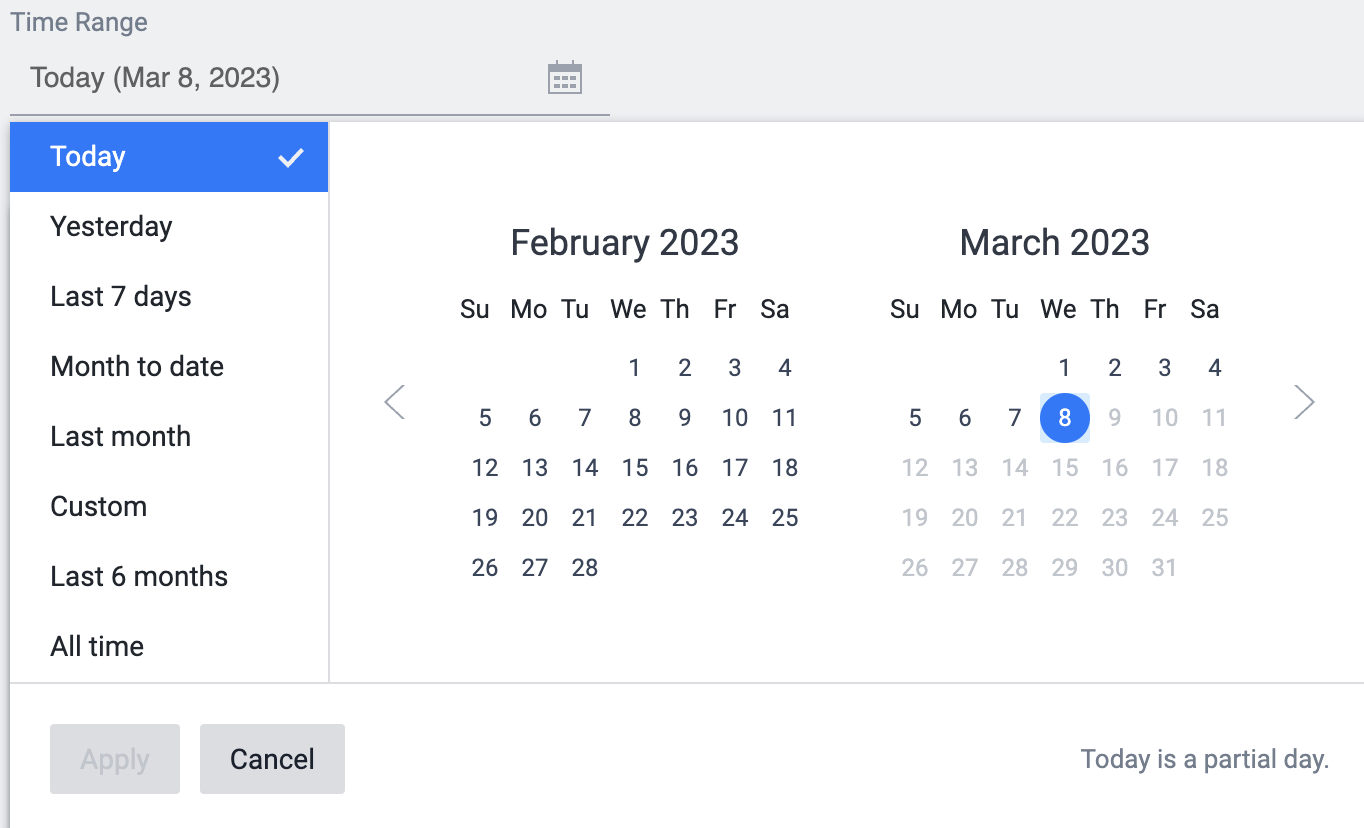 Today
Yesterday
Last 7 Days
This month (starting on the 1st)
Last month (1st -30/31st)
Last six months
All-time (starting Jan. 1, 2007)
You can also select a beginning date and an ending date using the date selectors. After selecting a date range, run the report to see stats for the newly selected range.
Note: When generating a report that contains partner sub ID, partner source, or fraud-related fields (like suspicious or rejected clicks), you can only view data up to 18 months in the past (548 days).